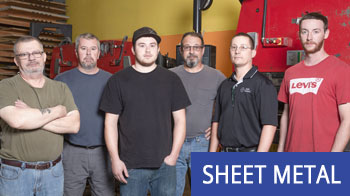 Excell's precision sheet metal department can bend, punch, cut and form almost any metal with uncommonly high accuracy. We've developed a reputation for quality so tolerance critical parts are no longer an issue for our customers. From large housings and enclosures to small precision parts and assemblies, Excell customers don't need to keep track of multiple suppliers.
Having sheet metal, machining, and welding all in one facility makes project planning and ordering easier for our customers. All of our departments work closely with each other so the accompanying components for your sheet metal parts can also be made, assembled & tested, and delivered together all from one PO.
By cutting out shipping between multiple suppliers, the risk of damage in transit is greatly reduced while quality responsibility is increased. Excells customers can expect reduced lead time, reduced hands needed on your projects, increased quality, and supplier consolidation.
Our team trouble shoots and monitors every detail along the way, from raw material to methods of movement. Whether it's for R&D support or running production, we think of everything surrounding your part because you shouldn't need to.
Quality and precision can never be compromised.
We are ITAR registered and ISO certified. Quality is our number one priority.