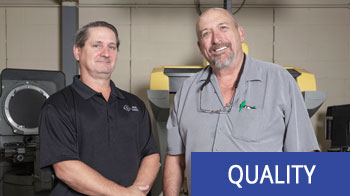 Providing consistently high quality parts is our leading force at Excell and we are proud of our 99.8% quality rating. To best ensure that all parts are within tolerance and meet or exceed the required criteria for every project, we have two full time quality inspectors, maintain a system of accountability and multiple checks, and we are proudly ISO 9001 certified.
Every project must pass through our quality department at key points throughout production to be inspected and signed off by an inspector before proceeding. These multiple checkpoints create a system that better ensures any errors are found early and corrected before again going through a thorough final inspection. We take every step to reducing the likelihood of a faulty part ever entering your doors.
In addition to quality department checks, Excell has quality points throughout our floor where each member of our team self-evaluates parts between official checks. We are proud of our team of select machinist who have done bores to 0.0004, roundness to 0.000050, and flatness less than the wavelength of light.
If your company requires unique, custom, or complex documentation- that is no issue. Excell is ITAR certified and we're no stranger to complex documentation. We help relieve the stress on companies that may have more detailed document requirements.
Quality is our number one priority. Our excellence is found in consistently reliable quality with unparalleled service.
We are ITAR registered and ISO certified. Quality is our number one priority.