Over the years, Excell Solutions has added the capabilities necessary to solidify its position as a true one-stop shop for all mechanical needs. Adding a waterjet to the flow of operations has increased our capabilities and throughput. In the manufacturing industry, accuracy and precision are key elements of any successful production process. Waterjet cutting is one of the most versatile tools for achieving these goals, providing a solution that offers much more than just the ability to cut through materials. In this article, we will explore the advantages of waterjet cutting and discuss how it can help you achieve cost savings and improved quality in your manufacturing operations.
What is Waterjet Cutting?
Waterjet cutting is a versatile, precise, and cost-effective method of cutting a variety of materials. Waterjet cutting uses a mix of a high-pressure stream of water and abrasive mediums to cut through the material. This method can be used to cut a variety of materials, including but not limited to: metal, rubber, ceramic, and composite materials. When it comes to diversifying your cutting processes, waterjet is a great alternative to other traditional cutting methods, like plasma or laser cutting.
So, what are the benefits of providing these waterjet-cutting services?
Diversify Material Options:
Our customers don't like to be limited in their material selection. They prefer to use the materials that will be most effective for their applications. Waterjet cutting machines don't have heat-effective zones, which gives our customers versatility when it comes to material selection. With our OMAX 55X100 waterjet, Excell has the capability to cut materials that lasers can't like rubbers, plastics, foams, and composites. With the reduction of heat, less stress is put on the material, which also eliminates any warping or oil-canning of thinner materials.
Laser-cutting systems are also limited in the thicknesses they can cut. Our waterjet machine is graded to cut up to 6" of steel. Although we have not received a job to cut material that thick, we have cut up to 4" of armor for a military application (for reference: at the upper limit, fiber lasers are graded to cut 20-25mm mild steel).
Superior Edge Control/ Quality:
As mentioned above, waterjet cutting applications use a mix of high-pressure water streams and abrasive materials like sand or garnet. These two processes work together to produce a smooth, quality, and burr-free edge that requires minimal secondary processes once cut (eliminating any secondary processes, reduces cost and lead times). Depending on the material and thickness, laser cutting machines often melt material, creating splatter that reduces the quality of an edge and limits its capacity when it comes to critical tolerancing.
Efficiency: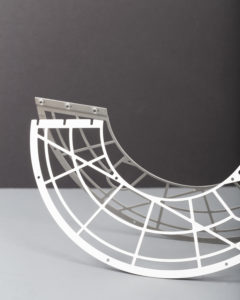 Waterjet is not the quickest cutting platform available in today's market, however when it comes to larger quantity runs this machine is one of the few that can run "lights out", giving us the capability to cut 24/7. As mentioned, waterjets are typically graded to cut up to 6" of steel. Given the limited restrictions, we can also stack sheets on top of one another which increases our cutting efficiency. Most lasers can only cut 1 sheet at a time, which involves constant re-loading.
5-axis Waterjet Cutting:
Waterjet cutting machines are typically outfitted with 3-axis cutting capabilities. Our Omax 55X100 comes equipped with a 5-axis cutting head. Having the ability to make cuts beyond the traditional X, Y, and Z axis offers a host of unique benefits. By eliminating the need to shift a part or sheet from operation to operation/ machine to machine, these multi-axis cutting heads add to the level of precision offered by limiting cuts/ operations to 1. 3D cutting capabilities also allow us to cut materials outside of the traditional flat sheet.